2012 Works
Collection of all paintings created in 2012
Evolution, 48in x 72in, Acrylic on Canvas, (SOLD)
I finally feel like whatever that 'thing' is that I've been struggling to channel for the last 4 months is arriving. This was a huge leap for me. My frantic desire to crank out the pieces in relation to the shadows that bite at my heels has finally been whittled down to something more irritating than devastating. I can begin to enjoy the process instead of racing head first, blinders on, to the destination. I am lifting my head, opening my eyes, taking a deep breath.
It was evolve or die and now like a butterfly emerging from its chrysalis, I begin the next phase of my journey. I am filled with hope and excitement and new understanding.
Persistence, 48in x 72in, Acrylic on Canvas, Available
This is good, because men are amazing.
And to all the people who stumbled over that last sentence, this is not the book about how messy we are; how dark our shadows can be, this is about where we shine, because when we do shine, it is bright. Like the sun.
We have such a vast capacity to love. At our best, we embrace, we challenge, we protect. When we channel our colossal capacity to change, our power is prodigious, our ability to act is immense. In our truth we are honest, we share. We are vulnerable. We are healers, dreamers, achievers. We sacrifice for the greater good.
And so I raise my hands in honour of men, for the work we do, have done and have yet to do. I raise my hands in honour of the fathers, grandfathers, great grandfathers whose shoulders we stand upon. I raise my hands in honour of our sons, our grandsons our great grandsons who stand upon our shoulders.
Bless the men in all their messiness and wonder. Bless the men who are making great change in this world and those who have yet to. Bless the men who are awake and asleep. We need them all.
Anger Games, 48in x 72in, Acrylic on Canvas, Available
I've thought a lot about anger over the last little while; what faces it has, how it chooses to come out, what its overall effect is. There seems to be two variants: destructive and constructive
When I am in destructive anger I lash out, I scream, I smash, I hurt. It most often erupts from a place of shame, a place of intense and critical self judgment and I never feel good after going to this place. I often have pieces to pick up and wounds to heal and fall in to further cycles of shame and sadness and self judgment. I have never accomplished anything positive from this place.
When I am in constructive anger I take action, I set boundaries, I hold my lines and I do it while keeping to my truth. It is the energy of a true warrior. It has a code, it has compassion, it has fierce love and it doesn't take any shit. I have done some very powerful things from this place.
When my ire rises, I get to make a choice. Often times I make a bad choice and end up on the destructive side but the more I become aware of the choice I am making and what its end result will be, the more I get to choose for the win.
Designer Tempest, 48 in x 72 in, Acrylic on Canvas, Available
I was in one of the blackest moments of the past year when I started this canvas. The energy flowed and the shapes developed with little struggle and I stepped away from the foundation satisfied and feeling sightly better for having given a voice to these shadows. They had been tearing me up at the time and were nothing short of the invisible claws of a tempest.
I far too successfully left the residue of it on the canvas.
And so began my sojourn to completion that was fraught with every block I could subconsciously conceive of. The yellow/gold area got changed and repainted five times. The colour sequence that I'd developed during one of my colour sessions was one that I was not comfortable with in any way. I would start and stop in record short times. The three dimensional aspects I've been trying to develop refused to come forth unless I forced my hand.
When I was about 3/4 of the way through, I left to staff a New Warrior Training Adventure and returned so full of life and love and courage to face my demons and my shadows that I was able to stand up to this piece and finish it in an afternoon. I must say, though, that It was a very uncomfortable afternoon. I was full of doubts as I worked. I just wanted to give up. A few end of summer flies had made it in to my working space and were randomly landing on my arms, my neck, my face. Irritating tickles that were too quick to catch. I felt pins and needles; random breaks of sweat. I've never before had to deal with this kind of experience in painting.
I was going to just file this piece in the storage room as soon as it was done, but I put in on my wall instead because I have a new goal, a new vision for completion of my process. The vision is to not only witness my darkness, my struggles, my shadows, the parts of myself I want no one to know about including myself, but also to love them so deeply they no longer feel alone; like rivers of water and cleansing rains that allow forests to grow where only parched broken earth once lay.

Of Myths And Men, 48 in x 72 in, Acyrlic on Canvas, Available
His old life was flat, the energy that had throbbed through the veins of his experience had become, to his eyes, unremarkable. When he finally found the fine edge that exposed the next layer of illusion, peeling it back to lay bare the fresh pulse of a depth newly witnessed, it filled his well to overflowing; filled him with the conviction to move forward
And so he hoists his bag of tools over his shoulder and takes the first step of his next journey, rolls the dice and opens the door of vast opportunity; the world of possibility swirling around him. Invigorated. Excited. Ready to embrace that which awaits him.
Interlude, 16 in x 20 in, Acrylic on Canvas, NFS
I've started using left over mixed paint on small canvases and this is one of them combined with the use of a paint pen. Really enjoyed doing this; small, simple, fluid. For me, it is really reminiscent of Australian aborigine style. Feels very 'beginning of it all' in content. Definitely going to play with the paint pens some more!
What's Under the Mask?, 48 in x 72 in, Acrylic on Canvas, Available
There is a subtle but pervasive battle of belief occurring in my head right now.
My perception in the blue corner is that we are spirit, connected to a vast awareness that is bonded in every way with every thing; we are metaphorical nerve receptors, transmitting stimuli and experience to the higher mind. We are oneness; a grand organic multi-dimensional pulse.
My perception in the red corner is that we are separated, a random occurrence, an almost infinite lottery of freakish materialization. We are deeply complex bags of meat cursed with self awareness that are carrying out an elaborate program of survival.
Either one is ridiculously amazing in its own right. Why decide? If I'm not being torn apart; if my very sanity does not depend on choosing sides, need sides be chosen? Can I sit comfortably in a state of observance at the monumental possibilities of my existence?
Making Waves, 48 in x 72 in, Acrylic on Canvas, Available
When I started my most recent and definitely most concerted campaign of painting almost two years ago, I'd set in my mind that I wanted to complete 50 pieces and then have a big show. This is piece number 51 and I have a solo show set in a massive space at the beginning of August. Achievement unlocked.
This painting has its foundation in the idea of consistent application towards large achievement. The theme behind it is surfing and thats exactly what I've been doing: I saw a terrifyingly large wave building and decided it was time to try it on; once I got up, there was nothing to do but ride. The energetics of the wave are changing and it is clearly showing up in this piece so it may mean this ride is ending and its time to paddle out and find the next one. Gnarly. :-) Can't wait to see what's coming down the pipe.
My new goal is a set of 20 pieces for a show in the spring of 2013.
Pole Position, 48 in x 72 in, Acyrlic on Canvas, Available
Lately I've been asking myself the question: "just who exactly is driving this bus?". What defines 'me'? Who am 'I'? It would be nice if that answer was simply 'that which looks out from behind these eyes'.
This series of thoughts was brought on by a change of perspective that recently happened for me. I had a behaviour that was destructive for a long period of time and I don't seem to be exhibiting that behaviour any more. In fact, when I think about that behaviour I am stunned that it was a part of my actions and thoughts for so long.
I recently heard a show on CBC called 'The Red Book'. It was about one of Carl Jung's dissertations that was published only in the last few years and that much of Jung's later work had been based on.
I was particularly intrigued by his journeys in to his unconscious and his conversations with aspects of himself. The deeper he went, the more power these energies seemed to have; some of which declared their outright autonomy. At one point Jung speaks of how thin the veil was between his maintenance of self and oblivion.
In this painting, there are clearly aspects of myself vying for my attention. One of them I'm actively trying to cover up. There was a time during a very explorative part of my life when I was living in east Vancouver that I would encourage dialogue with these energies. I wonder what these ones have to say.
Maybe the better question isn't, "Who's driving this bus?" Maybe it's "What is this bus?".
Landscape II, 48 in x 72 in, Acrylic on Canvas, Available
I look at this painting and I think: "busy". This is exactly what my life is right now. I have a powerful urge to achieve as much as I possibly can in as short a time frame as I can muster.
I know a man who is powerful and strong in a way that most men yearn to be. His name is Gord. He's a warrior and a king and a magician and a lover and he also carries more mother energy than any other man I've met. I was telling him that my drive to achieve and accomplish was almost overwhelming; like it had a life of its own. He said this was called a 'sovereign wound'. He said it was something he has struggled with as well and in the end, it has had some pretty powerful benefits for him.
In contemplation, this sovereign wound of mine has its roots in not feeling like anything I ever do is good enough and that ultimately I am not worthy of anyone's love. Maybe if I can accomplish just that much more on that much larger of a scale I will earn that love that I so desperately want. Maybe then I will be embraced and celebrated for my unique gifts and abilities.
It's amazing that I still carry this wound, that I scrape it open every time it starts to cover up so I can keep telling myself this story. Amazing because it is so defeating, so restricting. Like a tourniquet that has been minimizing the flow of life and blood and love. Here I stand with a choice to let it go, knowing its detriment, yet I still want to hang on. I fear that this pain is an intricate part of my identity. If I let it go, I let 'me' go. It is terrifying.
Weaving, 48 in x 72 in, Acrylic on Canvas, Available
"The first step to the knowledge of the wonder and mystery of life is the recognition of the monstrous nature of the earthly human realm as well as its glory, the realization that this is just how it is and that it cannot and will not be changed. Those who think they know how the universe could have been had they created it, without pain, without sorrow, without time, without death, are unfit for illumination." ~ Joseph Campbell
Shoulders We Stand On, 48 in x 72 in, Acrylic on Canvas, Available
My wife's grandmother passed away just before I began this piece and with a consistancy I've come to expect, but never remember to expect, the painting speaks for the power of the moment. Laura was a lovely woman who, under some awful circumstances, managed to always maintain the strength of her role as a mother and grandmother. She rolled with the punches and was a very special person in my wife's world. During one conversation with my wife about the loss of her grandmother I said: "You know, death is a real asshole." And it is. I'm angry with death because it is so ridiculously final. The door gets shut, never to physically be openened again. NEVER. I hate that.
This painting seems to reflect this attitude, but clearly with part of me trying to explain that this is the natural progression of life and that wonderment, diversity, change & growth in life could never happen without death. It is why so many of our past, and some of our present cultures give such honour to the process and assign symbols and ultra potent beings to represent its inevitability and power.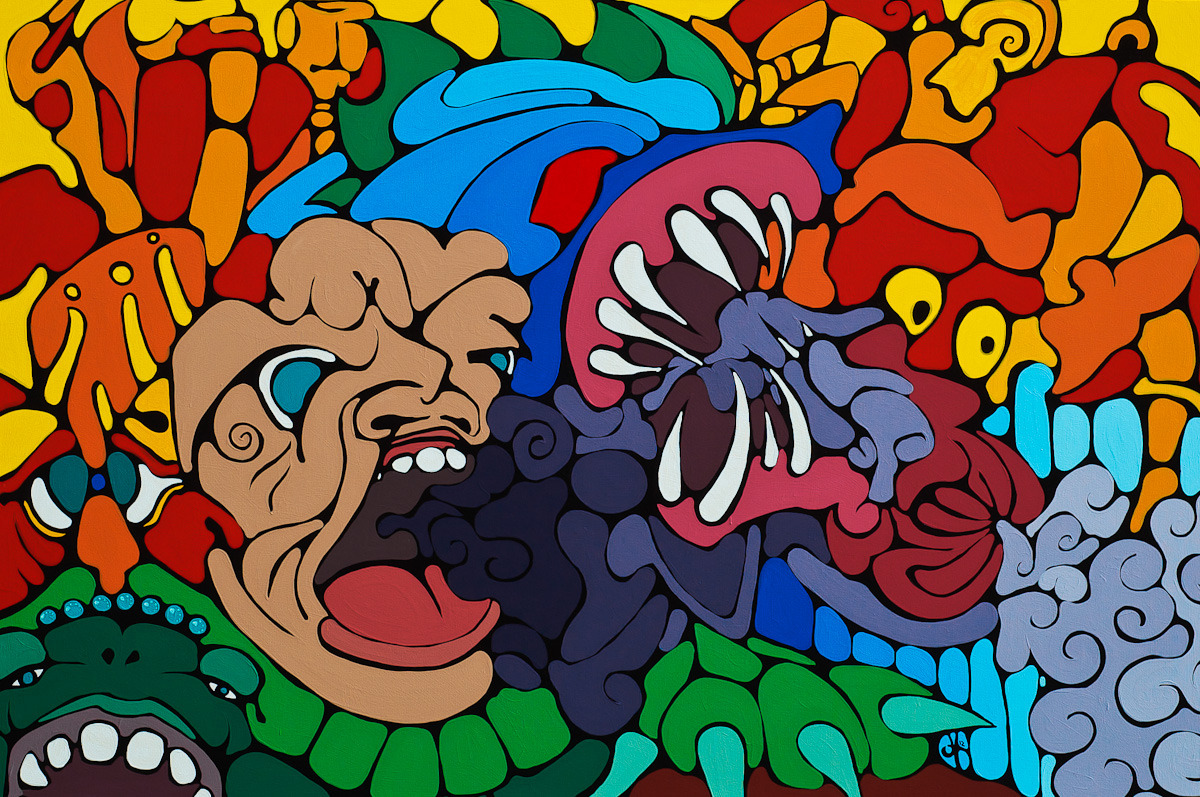 Residue, 48 in x 72 in, Acrilyc on Canvas, Donated to West Coast Men's Support Society
I recently engaged as a staff member in a new warrior weekend as part of the Mankind Project. Its roots are in the initiation of males in to manhood, regardless of age. It's about helping men to take an honest look at their shadows and embrace their true power in the world as protectors, creators, lovers & warriors for that which makes it a better place. It is a fantastic process and one that I can't begin to describe the brilliance of. Every weekend completed is a weekend that makes the world a little bit safer and a little more honest.
Part of the processes involves intense work and the creation of space for the release of deep hurts. As a staff member, no matter how much of a 'shield' I put up, there is always the residue of other men's pain, shame, sadness, joy, love, hatred, guilt, confusion and anger. It's like a minute scarring of my spirit from the weekend's work that I embrace and wear as a badge of honour for doing the work that I do. It is the wound of battles hard fought and won to make our world a better place.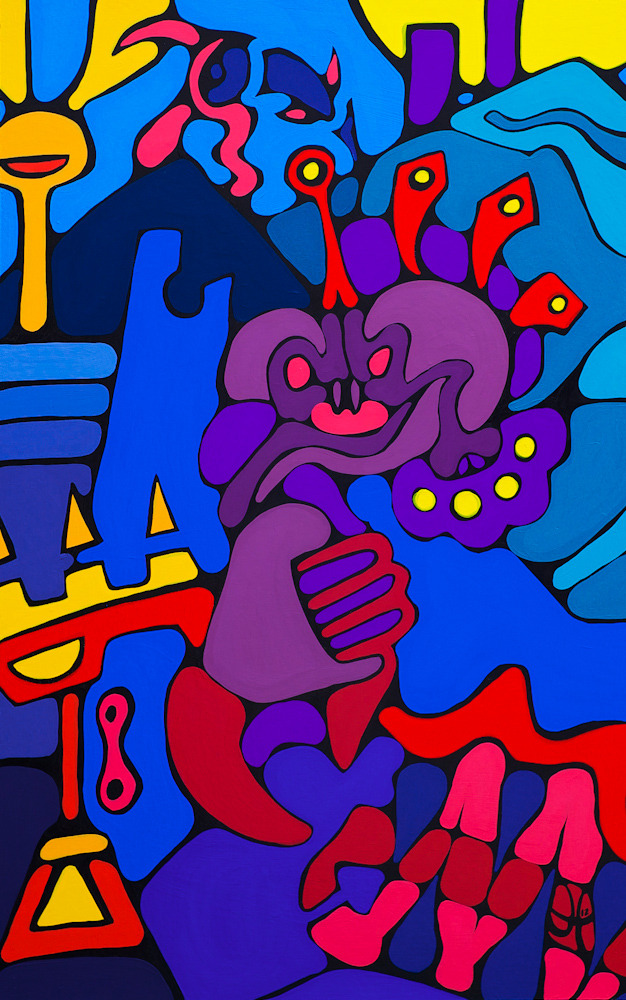 HUB, 36 in x 56 in, Acrylic on Plywood, (NFS)
This is a donation piece for the HUB at Cowichan Station. It is a decommissioned elementary school that is being turned in to a community hub with the classrooms & gym being transformed in to meeting areas and multi-purpose rooms. It is set in a beautiful area and is surrounded by magnificent cedars and local farms. There are a number of windows that have been boarded up so this piece will be replacing one of the regular pieces of plywood and it is one of many that have been donated. I'm really excited about having this new community gathering place; it has so much potential.
A Child's Wonder, 18 in x 72 in, Acrylic on Canvas, Available
When I consider deeply the process of my imagination as a child I get a feeling of digging deep in to its physicality, injecting it with my creation and being bounced back out in the blink of an eye. Little ugly doll wrestlers are all of a sudden in a battle royale. The stick is now a rifle. The undercover agents are going to pull off a coup. The secret spy cave base is only navigable by its operatives. My feet as they land underwater and throw up clouds of sand are the feet of a giant tramping over an alien world. The currents of the river are the currents of the wind and I am flying through a vast canyon.
These worlds were beautiful and precious and timeless and my windows in to them seemed so short. This piece reminds me.... of the essence and simplicity of the creative act. How everything gets so complicated but at its root it is just the flow. Dive in, jump out. Play.
Somber Man, 18 in x 72 in, Acrylic on Canvas, Available
A number of years ago when I worked for one of the major camp and catering companies in the BC & AB oilfields I was sent on a mission to deliver an envelope containing 'condolences' for a recently deceased chief of what I think was the Dene-Thah native band.
I was unclear on protocol and was simply told to go find a particular band member, give him the envelope and leave. I felt that at the very least I should try to pay some authentic respect to the man who died and his family as well so I stepped in to a line where I thought I could do this. I'd never seen a dead body before and much to my discomfort this particular funeral was the wake-style Catholic version. I soon came face to face with a man who's spirit had long since left his body behind. I kept wondering if he was going to wake up, open his eyes. He looked a little pale but nothing drastic, mostly he looked like he was in a deep sleep. I think my eyes tried to play tricks on me when I saw his chest move. Before I could completely melt down in some maudlin hollywood psychosis I was moved along by the flow of the line to pay my respect to the family. I felt malice and spite from them. Who are you and what right do you have to be here was in their eyes. I felt fear and shame.
There was a small area where music was being played. It was somber and sad and out of tune. The leader of this musical group stood out for me; he had the eyes of a zealot. Gaunt & haunted; I couldn't help but think his atonement was regular self flagellation. He strummed the guitar with barest effort and sang in somber tones about the forgiveness of the lord and prayers for the lost souls around him.
I left feeling hollow. I greased a palm for the financial benefit of a corporation that was clearly masked by the concept of sorrow and concern. I bore witness for the first time in my life to the truth of death. I felt torn in the conflict between christianity and indigenous tribal & spiritual process. It was truly discomforting.
Vulnerability, 48 in x 72 in, Acrylic on Canvas, Available
This was formerly "Landscape". The first painting I did in 2011. If you find the description of it in '2011 works', you'll see that I was thoroughly confused by its meaning and wasn't sure "who it was for".
Like "All the Rage" being recycled and rebirthed in to "Rage", a much more distilled and honest variation of the initial expression, I believe "Landscape" becoming "Vulnerability" is in the same vein; that at the time of initial creation I could only catch a ghost of future understanding.
'Vulnerability' is absolutely about its namesake. I take tentative steps in to the world with the intention of doing so unarmed, giving up the weapons of racial privilege, sexual privilege, economic privilege; knowing that I AM ENOUGH. It is terrifying to be exposed like this but I know I must be the change I want to see in the world.
I hold an image of my relationship which has given me the strength to get this far. Encouraged by my partner's work, encouraged by her own explorations and her courage to bring a torch in to her shadow world and look these beasts in the eye. Encouraged by her love and support; knowing she's got my back, knowing that to her, I AM ENOUGH.
Shadow Work II, 48 in x 72 in, Acrylic on Canvas, Available
I came within an inch of painting over this piece in the beginning. It was making me feel incredibly uncomfortable. Thankfully, one of the skills I've been developing is if a situation, conversation, music or image makes me uncomfortable, guaranteed it will lead to an enlightenment if I can just bare to follow the feelings through to their source.
Once I made the decision not to fight, the wall dropped and the flow began and I was able to clearly identify the forms and colours. In choosing to not fight, to only accept and give vent to that which needed venting I was able to witness my shame, my darkness, my dishonesty, my deviousness, my gluttony, my inadequacy. As I brought each one out a little release happened. At one point while I was working I started to bark like a monkey in complete satisfaction. Seriously!
It gave me great joy to have found the courage to declare these shadows. Too many times they have simmered like a volcano and eventually exploded if I didn't give them vent. How many times have I sabotaged myself and others in this desperate pursuit of denial?
Not this time.
I'd Rather Choke On It, 48 in x 72 in, Acrylic on Canvas, Available
There were a number of posts recently for International Women's Day and one in particular really stands out for me. It was a dating guide for women that was put out in 1938. Essentially it was a series of instructions on how to be as lifeless, innocuous and unexceptional as possible. One of the pieces of advice that I kept thinking about after I realized what the foundation of this piece was going to be was: "Don't be sentimental or try to get him to say something he doesn't want to by working on his emotions".
As men we are taught to suppress our emotions, to not feel because it is somehow a sign of weakness and I am realizing that the weakness is not the showing of emotions, it is the passionate desire to not show them. We express our weakness and our inability to deal in the emotional realm by first supressing them in ourselves, then suppressing them in other men and finally in subverting them in women. That way, we don't have to deal and we can blindly maintain this legacy of cowardice.
Well, screw that. As a man who wishes to be in his power, all of his power, I stand at the chasm of fear, anger, joy, sadness and shame and I leap with my whole heart.
Men, if you think life is hard now, try joining me. It may become like a rollercoaster that you will beg to get off of because you don't know yet what your inner world has waiting. The outcome can be (and no, that is not a promise) that the rewards will be equal to the risk.
Propriety, 72 in x 48 in, Acrylic on Canvas, NFS
One of the intriguing parts of my creative process is I don't always paint 'right side up'. There are often times when I will lay the foundation for a piece and have to turn it 90 or 180 degrees in order to find the image that needs to be worked on; such was the case for this piece.
A shrew dominates the upper left hand side of the piece, they tend to be ferociously protective of their territory. A lovebird is on the right, they are most commonly known for their tendency to choose a mate for life. Underneath these two is an aquatic scene with a spawned salmon, egg & a creature I can't quite figure out.
It's almost eerie how this scene reflects a moment that occurred when I was first painting this piece. My wife had tried to get my attention while I was in the initial 'zone' of foundation building and I bristled and closed up and wanted her to go away so I didn't break my flow. She had no idea what was going on and thought I was mad for something else. If you look at me as the shrew and my wife as the lovebird, it all makes perfect sense!
Strong, but not Flexible, 48 in x 72 in, Acrylic on Canvas, (SOLD)
Leading up to and during this weekend is my youngest son's birthday party. You'd think a proud father would be right in to assisting with this and being fully present, but apparently I have shadow about it. It seems two-tiered. For one, birthdays are pretty loaded for me, I tend to try to undervalue my own and I am always terrified of others'. Two, the English in me is on full assault to get me well rutted in to a routine that attempting to break results in deep feelings of resentment towards anyone or anything that requires attention outside of said routine.
I feel like I'm growing in to a mighty oak but the scary part is a big enough windstorm has the potential to break me in terrible ways. Interestingly enough, my body seems to be responding to this mental immovability and is becoming less and less flexible and more prone to injury. I need to take a page out of Alex Lightman's book and start reversing the process or I'm just going to end up a grumpy, stodgy old dude that rails against change in the world. ACK!
Scrutiny, 48 in x 72 in, Acrylic on Canvas, Available
Once again I stood at the canvas convinced I had nothing to say; feeling in a mediocre mood. Expecting mediocre work. I took a deep breath asked for guidance, focused on the canvas, waited a few moments and then like someone else had grabbed my hand the brush hit the surface like the cut of a sword and it was on.
It poured out of me. I knew exactly what to do each step of the way; as I was finishing one colour I would get a brain snap that was clear as day what the next colour should be and before I knew it (well, not quite that easily, I had to do three layers of pyrrole red for lack of opacity ;-) it was done.
I sat down and looked at it and felt great joy that I had channeled something pure. Honest. And as I lauded my accomplishment, I can describe it in no other way than it frowned at me and the magic I felt started to disappear and I realized it was calling me out. I was calling me out. Humbled, I put my feet back on the ground and felt gratitude to have created such a great mirror for my inner world.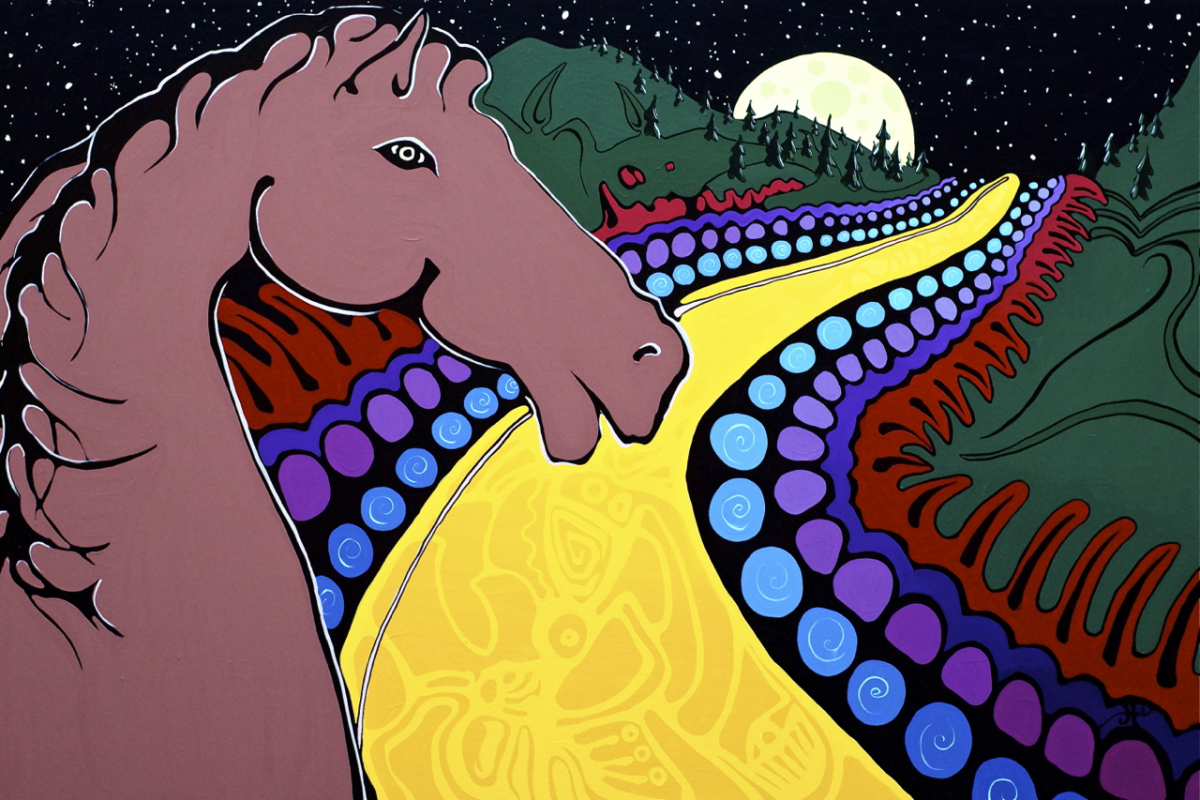 The Invitation, 48 in x 72 in, Acrylic on Canvas, Available
The horse has turned his head and is looking at me, I am on his back. He is asking if I'd like to journey with him. The road is long and it leads in to the mystery. He says I shouldn't do this alone. He is power, grace, nobility, beauty, strength and freedom.
When I first perceived the horse in this piece, I was not convinced that I should coach him out of the initial chaos of the paintings foundation. After turning the canvas upside down and seeing a mirror of him I ceased to doubt the process.
In researching horse symbolism and history it was interesting to learn that horses have been in partnership with us for over 5000 years and are probably one of the biggest contributors to the enhancement of our civilization. Honestly, I've been mostly afraid of them and not given them a whole lot of thought up until now. Only recently have I begun to feel on equal footing. I like this slow respectful development.
The Troll Under the Bridge, 48 in x 72 in, Acrylic on Canvas, Available
I've lived a week from hell. This piece was thwarted from the get go, everything in my life was going wrong; conspiring to stop me from painting. I'd started the foundation and I hated it, it was surely a mistake. I wasn't ready to deal.
My Aunt, Leah Hokanson, called and asked "how are you?". We've created a safe space to express ourselves to each other so I told her how I really was. How all this crap was coming up and how everything was wrong and how I felt I was failing myself and my family. She was drawn to offer a poem written by Rumi:
~~~
The Guest House
This being human is a guest house.
Every morning a new arrival.
A joy, a depression, a meanness,
some momentary awareness comes
as an unexpected visitor.
Welcome and entertain them all!
Even if they're a crowd of sorrows,
who violently sweep your house
empty of its furniture,
still, treat each guest honorably.
He may be clearing you out
for some new delight.
The dark thought, the shame, the malice,
meet them at the door laughing,
and invite them in.
Be grateful for whoever comes,
because each has been sent
as a guide from beyond.
~~~
My avoidance came clear to me. I had such an intense desire to not look, to push away, to deny this dark dark part of me that lives just under the surface. The harder I ignored, the harder I pushed it away, the stronger it became. It was wreaking havoc everywhere I looked.
At that moment of understanding, I began to paint and poured that acknowledgement on the canvas. It told me it was stubborn, undeniable, headstrong, unstoppable... like a moose. I opened the door and laughing, I invited it in. I let it and its environment take shape, I felt SO MUCH better. I realized as I was finishing that I was creating a container for it. My final gesture was to gather the remnants of that energy and give it to the canvas. Seal it in. Let its realness, its existence always be acknowledged, always be seen. Never again denied.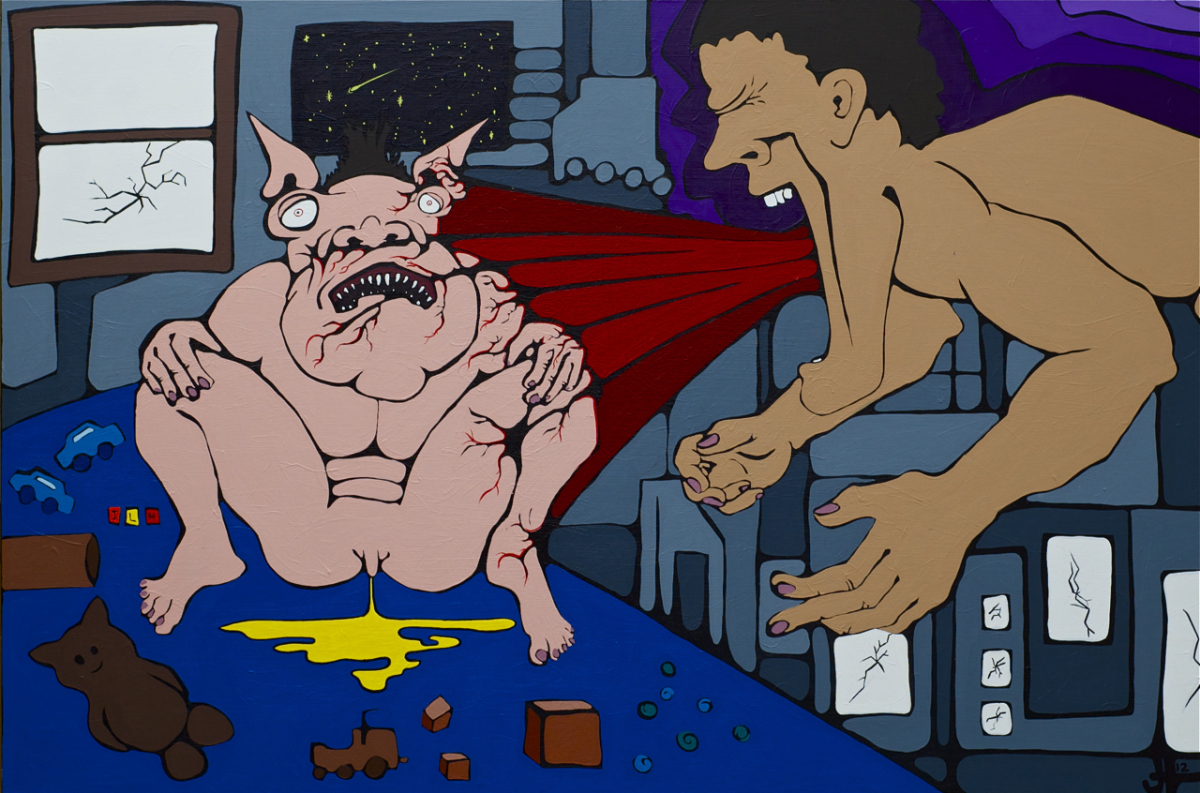 Rage, 48 in x 72 in, Acrylic on Canvas, Available
Our scientists understand that modern humans date back about 200,000 years, with behavioral modernity coming in to play about 50,000 years ago. So many branches leading back to a very simple source.
I ask you to contemplate the patterns of your family, your parents, your grand parents. I want you to ask how many patterns you are unconsciously repeating. How many of those patterns may very well link back to that initial evolution of modern humans. Of those patterns that do not serve you, your fellow humans, your planet well, how many have you defeated? Re-imagined? How many patterns will your children shoulder because you couldn't/didn't see? How many will they break? How many will make it to your grandchildren?
I ask you to consider that you don't have to believe everything you think.
Making Space, 40 in x 64 in, Acrylic on Canvas, Available
This is my first completed piece of 2012. It felt like a real divergence from the path I was on at the end of 2011; however, it seemed necessary to open up a space for 2012. I layed the entire foundation of it with my eyes closed, only opening them to find anchor points and to see where I was on the canvas. It was an interesting exercise as there was a distinct difference in my line work between the two modes: With my eyes open, I find that I want to push forms that I recognize, there is less flow and more desire for control. With my eyes closed, I find that the brush moves with a fluidity and independence that is nothing like the eyes open version. It also prevents me from putting too much information in to the piece; I find that at times I feel like I somehow need to fit as much in per square foot as I can so as to 'maximize' my projection of perceived value.
I like that I don't really have a story for this one; that it is entirely up to the viewer to discover what it holds for them. For me, this piece is entirely about the power and suggestion of shape and colour and I invite the viewer to consider the whispers that arise in contemplating this piece and then to ask who is whispering.