2011 Works
Collection of all paintings created in 2011
Chrismageddon, 40 in x 64 in, Acrylic on Canvas, Available
I get weirded out about how my process works because so much of it occurs on at a level that I can't comprehend. Sometimes, like with this painting the commands are extremely clear & irrefutable: "Put a rabbit here, put spider hydras here, put a tiger here, put an elephant here, put a freaked out monkey here, put a dodo bird here and make sure it is gazing adoringly at the tiger and looks kind of dim. The elephant needs to be eating something. Put clouds in here, wait, I mean trees. Ok, make the lower portion look fiery, then greens and a deep blue sky." I step back and can't help but think of armageddon. The Green Man looks out from under the tiger; he is being consumed. What choices does he have? The spider hydras are laughing and mirrored under ground by the flowers above. The monkey is terrified even as he wields his weapon. The white tiger challenges. And then I see.... "That which gives light must endure burning." (Viktor Frankl). I am sad to let go, the old paradigms cry for deliverance. I cry with them.
The Journey, 24 in x 72 in, Acrylic on Canvas, Available
It seems that I am walking away from a world of sadness and anger, complexity and stress; turning towards something simpler, brighter, more hopeful. It feels good to be quiet. When I can.
Shadow Work, 24 in x 72 in, Acrylic on Canvas, (SOLD)
Before my New Warrior weekend, I hadn't put a name to the shadow concept in my life; I thought that if I pushed hard enough at ignoring the negative and embracing the positive that I could eventually create an idyllic life. The thought of creating an acceptance of my dark side, my shadow world, was a betrayal of the highest order. I can see now that I was misdirected in this. I was terribly afraid of my shadow because no one had ever shown me the tools I could use to look at it or even name it, to bring these energies out in front of me where I could see them and understand them, accept them and work with them as part of my energetic patterns.
Understanding this was when the Chinese symbol of yin yang finally made sense. It had been staring me in the face for years and I never thought deeper than the concept of duality whenever I saw it: Dark/Light, Male/Female, Hot/Cold. It all crystallized when I realized that it wasn't about duality, it was about "...complementary opposites that interact within a greater whole, as part of a dynamic system." (http://en.wikipedia.org/wiki/Yin_and_yang)
I look at this painting as something of a self portrait. There is a very clear interplay between the light (eyes & face) and shadow (screaming face). There is also a raven, which seems to be showing up very strongly lately and has the energy of wisdom and accountability. There is fire, which speaks of cleansing and finally there is the indigo/violet spectrum which feels like an expression of generally higher frequency energy. I think I might be telling myself a story about my own enlightenment; that I must bring all of me with me. It is a sobering statement that says: you cannot make a whole out of only one half.
Red Dragon & the Raven, 64 in x 40 in, Available
At the beginning of October I attended a New Warrior Training Adventure with the ManKind Project. I went in to it with the question "what does it mean to be a man?". I came out with a crystal clear answer. I can hardly begin to describe the descent and ascent that was this weekend but for me I will say that it definitely turned my world on end and I'm eternally grateful for it. I am more prepared than ever to fight for the genuine in all of us. To fight for authentic relationships and communications that transcend our petty wars of gender, age, class, colour, borders, religion & politics.
Whenever I've contemplated the divine masculine, I've seen an image in my minds eye of a massive, impervious mountain; imovable in its strength and conviction. This New Warrior weekend as part of my personal journey, I got to see one of the energies that lives within it: an enormous red dragon. This energy feels reptilian, it is pure creative force and it doesn't live in the world of questions and quandaries of good vs. evil or black vs. white, it simply is and therefore it works with me or against me, depending on whether it is energized by light or shadow.
I think the Raven in the picture is an energy that goes deepest of all. It is the wisdom and the check-valve that directs the dragon energy and holds it accountable to the greater purpose. Together, these energies create unstoppable change.
Day Dream, 40 in x 64 in, Acrylic on Canvas, Available
Divinity watches over the process of sorting through the immense perceptual data of living. This is awake dreaming.
Technical Note: I've always been intrigued by the Golden Ratio and this inspired me to have some custom canvas made up that reflected the ratio. This is the first of the series and I think I like the space; however, time will tell! This is also the first time I used Golden's new line of Fluid Matte acrylics to fill the shapes. Not sure if I'm sold on these. So very opaque but also very stiff in comparison to the regular fluids. The light play is also completely different. I used the regular fluids for the dark purple outlines as well so perhaps it is the juxtaposition of high gloss versus extreme matte that has me confused.
Landstrider, 60 in x 36 in, Acrylic on Canvas, Available
I'd laid the foundation for this one just before leaving for a three day adventure to Tofino, BC. It was the first trip up there this summer that I was actually able to relax for. The yellows and browns in this piece feel representative of wheat fields and it's possible symbology of success seems appropriate. It feels like this piece is a sign post that says "good job, don't stop now".
Thinking With the Wrong Head, 24 in x 48 in, Acrylic on Canvas, Available
This piece is about feeling lost in my sexuality. My sexual education/perception was formulated by media and pornography and familial attitudes. I don't think I stood a chance of developing a healthy sexual attitude in this trifecta of unhealthy energy.
When I was painting this piece I felt lost in a quagmire of false assumptions and misunderstandings and I couldn't see any beacons of light in the dark world of projections I created for myself. I was looking for something to light the way and guide me to a higher place but there was so little support for turning against the tides and I was despondent that the odds of finding something healthy and whole seemed so insurmountable.
Pandora's Box, 24 in x 48 in, Acrylic on Canvas, Available
The messages line up for a turn and they all wear the costumes I imagine for them. They don't live in the world of good and bad, black and white but somehow I manage to stuff them in there. They are patient and wait for me to open my eyes.
The Right Time, 24 in x 48 in, Acrylic on Canvas, Donated to Ecole Mill Bay Auction
I had a thought just before my brush hit this canvas that waiting for the perfect time/inspiration to paint is completely redundant. Every minute of every day is the perfect time for anything. Perfect doesn't always feel that way but it always is. After expressing this thought to Cyrene, I asked her what if god had waited for the 'perfect time' to create the universe. Would it have even happened? She asked if I really believed that the creation of the universe was a conscious thing. I said that it didn't really matter whether it happened that way or not because my puny mind couldn't possibly answer that question and was therefore at liberty to make believe anything it wanted.
It's interesting how this string of thoughts relates to the painting because it seems to me that there is something in the upper left corner 'injecting' the potential for existence in to whatever it gets injected in to and the purple flower like thing feels like the 'big bang'. As the images travel towards the right side of the canvas it seems to very loosely represent the development of life on earth. Of course the universe is a lot larger than the earth but I'm kind of stuck in an earth-centric point of view right now.
The Rogue, 24 in x 36 in, Acrylic on Panel, Available
There is a bull or pig with a hook hand and a ring through its nose that reminds me very much of a pirate. He is a big dumb brute who plays with evil without knowing it's evilness. He has caught a hawk like figure and seems to be forcefully taking it; perhaps back to his lair where he will display it on his shelf of shiny things. He is gluttony and power and he will take until it is all gone and do so without knowing the repercussions. He is the epitome of negative masculine. He is a free radical and an energetic pattern that has never had its reckoning.
The Guardian, 20 in x 16 in, Acrylic on Panel, SOLD
A cottage with no windows sits in the background; it is a private place where secrets are kept and it is guarded by a benevolent being that dominates the frame. It is not violent; however, it is ever present, ever watchful & the clarity of its purpose is enough to deter if necessary. It watches over the scene, allows you to look but always knows the true motives of your curiosity. It will let you in only when it knows that you are ready to accept the knowledge within and only when it knows that knowledge is safe with you.
Clean-up in Aisle 5, 16 in x 20 in, Acrylic on Panel, Available
My first impression of what is happening here is that there is a tree-like being in the act of cleaning up the carcass of something like an insect. It is interesting to consider the possible symbolic interpretation that the tree represents new hopes, growth & self-development while the dead insect represents a former obstacle. When I look at it this way I can't help but feel totally blown away by the clarity of the image while it simultaneously bolsters my courage to continue my journey.
The Jester, 16 in x 20 in, Acrylic on Panel, Available
I was listening to a comedy channel program on satellite radio and heard an interview with Stevie Ray Fromstein of http://www.theholyatheist.com. One of the main tenets of his comedy is that "... you can't laugh and totally disagree with something at the same time." True comedians, and jesters before them, play(ed) a vital role in challenging how we think. They help us to look with clearer vision at our own follies and absurdities in one of the best possible ways and I believe they are incredibly important to the health and continuance of our culture.
When I Was a Boy, 36 in x 48 in, Acrylic on Panel, Available
I was thinking about the Vancouver Stanley Cup riots that just happened when I started this piece. By the time I was finished I couldn't see any correlation at all. My wife, Cyrene, pointed out to me that it looked a lot like the stuff I was doing in my early 20's and maybe that was where the initial conceptual energy went for the creation of the piece. I think she's on to something. My subconscious doesn't always give me a direct reflection on a considered thought; often times it seems to produce an angle of perception that I just wouldn't have looked at but ultimately produces the most satisfying inner and outer dialogue.
The consistent thread of thought for me in regards to the riots is that it was perpetrated mostly by males who I would call 'boys' as opposed to 'men'. Regardless of their age, whether 16 or 36, they are boys. They have never been initiated in to manhood. They don't know what it means to be a man, don't know how to control or direct the linear and aggressive energy of the male. That's why this painting is so poignant to me, because it reflects the time in my life when I was just as lost; just as confused, just as over-run with testosterone. I was absolutely a perpetrator of stupid boy crimes; thank god they were never more than irritating and irresponsible acts, thank god I wasn't downtown Vancouver in the middle of a riot at the time...
Forging Ahead, 24 in x 60 in, Diptych ~ Acrylic on Panel, Available
I created the line-work for each of these panels separately and with what seemed like completely different intent; however when I placed them side by side all of the major lines intersected perfectly with each other and I realized they were two parts of the same piece. If that isn't proof of subconscious intent, I don't know what is!
The figures on the left are a large, almost Indian styled elephant with a smaller, simpler one underneath as well as a number of birds (one of which strikes me as a dodo) and a lemur. The shapes then morph very clearly in to a rhinocerous-like face which then butts up agains a very strong, almost immovable symbol, backed by a couple of flag posts. The feeling I get is the symbol and flag posts have something to do with an evolutionary line that must be crossed in order for me to continue my journey. A possible interpretation in relation to this feeling and according to common symbolism is the elephant might be about letting go of the past and the rhino about forging ahead while the lemur is about unconscious thoughts trying to come to the surface and the birds about hopes and dreams, with the dodo in particular being about symbolic death.
Flowers For Algernon, 24 in x 30 in, Acrylic on Panel, SOLD
The inspiration for this piece and its title comes from the book "Flowers for Algernon" by Daniel Keyes (http://en.wikipedia.org/wiki/Flowers_for_Algernon). In it, the main character is a mentally challenged man with a 68 IQ who undergoes an operation that gives him a genius level IQ; however, he eventually regresses back to his 'normal' state. Once the regression is complete he forgets almost everything he experienced or thought while he was in that state of hyper-intelligence.
There are times when my artwork and ideas flow so naturally that they seem they'll never end and other times I'm just going through the motions. This is like an 'Algernon Effect' and I can't seem to see one side from the other. I feel like I pass from hyper-sensitivity to the muse in to a state of forgetfulness and confusion on a regular basis. This painting was made during one of the forgetful states.
The Usual Suspects, 24 in x 30 in, Acrylic on Panel, Available
Someone broke in to the office at my restaurant on Monday and stole over $1500.00. The inspiration for the title of this piece is in the movie of the same name where 'the Gimp' completely snows the investigator. All signs point to the fact that the person that stole the money from me is either an ex or present employee and if it is indeed a present employee, like 'the gimp', the perpetrator has me completely fooled.
One of the reasons that I just can't quite commit to the idea that it is a present employee is because I love and respect everyone that works for me and I have a fundamental trust for humanity and its potential for good (which is deeply based in my own quest for what is right and good). I had a teacher who once said: "Trust in god, but tie up your camels". Maybe I just forgot to tie up my camels.
Pan Tries Again, 48 in x 72 in, Acrylic on Canvas, 2011, (SOLD)
I actually laid the foundation for this one with my eyes closed. There are cats, dogs, goats & dragons. The character on the right seems to be passionately saying something to the character on the left who seems to be somewhat vacantly listening; perhaps because it is completely preoccupied with the sadness or despondence that it feels.
Stressosaurus, 48 in x 96 in, Acrylic on Canvas, Available
I think this one is pretty self explanatory; I have a friend who made a facebook comment: "I think I've seen "Stressosaurus" far too many times! There are great herds of them driving between Edmonton and Fort McMurray every day!"
Resentment is the Secret Ingredient, 48 in x 96 in, Acrylic on Canvas, Available
Do what I say, not what I do. Do what I want, not what you want. Do what I want you to want me to do, do what I want me to want you to do!
An old pattern of mine is to meekly acquiesce then despise the messenger and attack with missiles of resentment that erupt from a place I can't actually see.
I have shame and sadness for the pain this has caused but I also have pride for calling it out and choosing to not pursue life like this. It is an old family pattern, an old cultural pattern. I'm glad to be able to see this.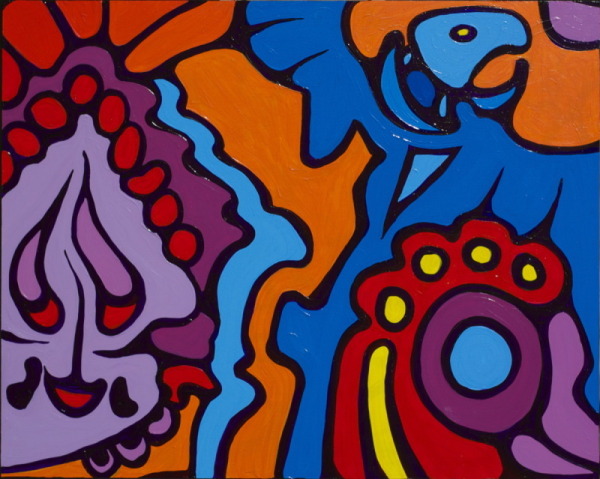 For Leta, 24 in x 30 in, Acrylic on Panel, NFS
I did this one for my cousin Leta and with full intention towards her as I did it. When I finished it, it really did not feel like it was mine or had anything to do with me. She expressed to me how much it encompassed her new journey in life once she received it so I guess I did a good job of channeling for her.
Hope, 48 in x 72 in, Acrylic on Canvas, Available
I completed this one not long after the Japanese Tōhoku earthquake. It came out surprisingly hopeful and transformative; seemingly completely at odds with how I was feeling about the situation. I hope that my intuition holds on this one!
Looking at the Gender Battle, 48 in x 72 in, Acrylic on Canvas, Available
I was taking a deep look at the negative male and female gender stereotypes when I was working on this piece. It was the first time I realized that I often use yellow to depict the act of observing in my pieces.
Tentative Perceptions, 48 in x 96 in, Acrylic on Canvas, Available
This was one of the first paintings I did where I began to realize how clearly I was trying to communicate to myself about the things I needed to make peace with. This one really feels like the central bird-like figure is an extension of my conscious mind trying to look in to the dark and mysterious fields of my unconscious mind.
No Bones About It, 48 in x 96 in, Acrylic on Canvas, Available
This one came out very clearly and each of the shapes felt very intentional as I created them. It feels very much to me like it's about the transition between life and after life or earth conscious to other conscious. Also, as I look back at this piece, it seems to have quite accurately portrayed the coming of an internal death and rebirth that I've gone through over the past few months.
Bracing for Impact, 60 in x 48 in, Acrylic on Canvas, Available
This was actually a completely different piece that I had started shortly after I finished "Alberta" in 2007. It sat in a state of being half finished for 3 years and it was the first piece I decided to work on after my bike accident. I knew that the only way I was going to finish this one was if I used the bones of it as an underpainting and completely reworked the concept and approach. This one really crystallized my new process and it very much reminds me of the feeling I had as I was sailing over the bars of my bicycle.
Alberta, 48 in x 60 in, Acrylic on Canvas, NFS
This painting took me countless hours to complete and spanned the better part of 4 years. I began it in Grande Prairie, Alberta not long after my first child was born & finished it in Edmonton, Alberta not long after my second child was born. If there were ever a piece I could label 'Epic', it would be this one. When I look at the imagery and the insane busy-ness of it, it truly encompasses the time my wife & eventually two children spent there. I was involved in the catering industry in the oilfield and everybody wanted everything yesterday. I still regularly think to myself how much I don't miss that industry!